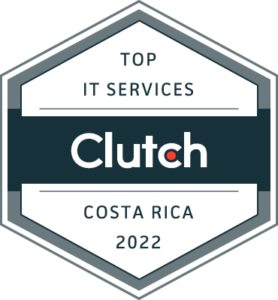 Headquartered in Costa Rica, Sapiensdev.com is a leading provider of IT solutions for Latin American businesses. We help clients tackle their modern digital challenges through software development, e-commerce development, IT staff augmentation, and more. For over 12 years, we've been a reliable partner to many of our clients as they conquer their business challenges.
As we aim to scale effectively alongside our clients, we were recently awarded as a top provider of B2B services. According to Clutch, Sapiensdev.com is among the top service companies in Costa Rica for the year 2021.
To give you a more detailed understanding of Clutch, it is a B2B ratings and reviews platform based in Washington, DC. They evaluate technology service and solutions companies based on the quality of work, thought leadership, and client reviews.
A rapidly expanding startup, Clutch has become the go-to resource in the agency space. Their review process is reliable and transparent, and we're grateful to those of our clients who have taken the time to provide feedback.
"Sapiens Development is deeply honored to be appointed as a Clutch Leader. As a company that takes software development very seriously, we are delighted that this has been recognized by Clutch and confirmed by our clients' feedback."
"They always look at aspects that could help us grow and succeed."
— Brian Gravel, VP of Creative Technology, Gravoc
"We were impressed with how fast they respond and how they can identify good talents."
— Babu Nagappan, AVP Dev Ops, Shoe Retailer
Discover more of our work methodology through these case studies. Our catalog of Clutch reviews is a free research resource.
Ready to improve your business's IT and development efficiency? Get in touch today to find out how we can help.