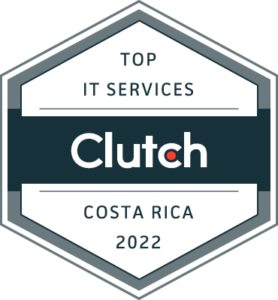 Founded in 2009, Sapiens Development has been helping businesses convert their ideas into memorable software. We're a software development company that takes pride in our technical proficiency, passion, and commitment to delivering impactful solutions. We provide our clients with the best talent, giving them teams that will add value to their organization. More importantly, we're experts in identifying the best approaches that our clients need to build custom-made software.
Today, we're thrilled to announce that we've been named a Clutch Leader for 2022. According to the B2B platform, we're among the top staff augmentation companies in Costa Rica this year!
"Our most valuable asset is the people who collaborate with us daily to deliver our clients the best possible service. We are thrilled to have been chosen as one of the leading providers of Clutch in 2022. We especially thank our clients for placing their trust in our work."
— Alcides López, CEO, Sapiens Development
Clutch is a B2B ratings and reviews platform committed to helping organizations of all sizes connect with the best-fit service providers. Clutch cuts through disorganized market research by collecting reviews directly from clients of registered vendors. By doing this, the platform delivers valuable insights about specific service providers businesses are eyeing to partner with.
"They always look at aspects that could help us grow and succeed."
— Brian Gravel, VP of Creative Technology, Gravoc
"We're happy with Sapiensdev's level of performance."
— Software Dev Manager, International MLM Firm
We're grateful to our clients for sharing their honest opinions about our solutions. Find out more about the quality of our projects by reading the full case studies in our feedback catalog.
If you're interested in our award-winning IT staff augmentation, be sure to say hello to our team today!